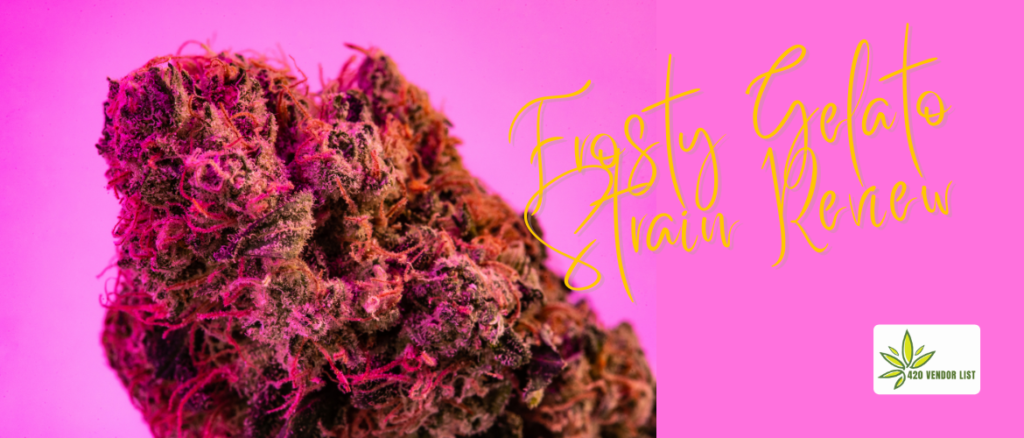 The Frosty Gelato strain is a newbie to the cannabis market, only recently introduced. This particular strain is a cross between the Brain Damage landrace variety and the world-famous Gelato strain. The name derives from the frosty appearance of the buds – although it still packs a strong punch in terms of potency. This hybrid is sativa-dominant and offers a mouth-watering taste with a balanced combination of effects, making it ideal for any occasion. 
Background of Frosty Gelato Strain
Frosty Gelato Strain is a sativa-dominant hybrid that was created by Growers Choice seeds when they crossed the renowned Sherbinski Gelato with their cut of Brain Damage. Gelato is a 50/50 mix of landrace strains and unknown genes that offers a balanced combination of effects, whereas Brain Damage is a skunky landrace cross with unknown genetics. In 2018, Frosty Gelato won first place in the skunk-strain category at the Highlife Cup.
Frosty Gelato is a hybrid cannabis strain that is said to have originated in Southern California. This bud gets its name from its icy appearance and its sweet, dessert-like flavor. The Frosty Gelato strain has a 65:35 sativa/indica ratio and produces cerebral, uplifting effects. This makes it a good choice for daytime use.
Appearance 
The frosty white color of the flowers and colas is due to a thick blanket of trichomes that cover them. It grows tall and strong, with dark green to purple water leaves. Its colas, on the other hand, are larfier in nature — they tend to be lighter and airier, although still rather enormous. The flowers are lightly packed and resemble a football in shape, with yellowish-green to deep sage petals that turn orange and red as they age. However, plants cultivated in a cooler environment tend to have a variety of green and royal purple hues beneath their thick white trichome coat.
[ Read Also Jungle Cookies Strain Review]
Grow Guide
Frosty Gelato is now only accessible through Growers Choice as auto-feminized seeds. The plants are more sativa-dominant in structure. They generally grow taller with longer stalks than shorter and bushier plants. To prevent the plant from growing to an unmanageable size, early training is required to keep her frow growing beyond the lights. She will also require a lot of pruning, as she likes to produce foliage in bulk before flipping into flower. In general, she's a hardy breed that isn't more prone to powdery mildew, mold, or other pests than typical strains. You should be able to harvest around 1 pound of flower per 3 feet of growing space every 8 to 10 weeks.
Aroma 
Frosty Gelato gets its scent profile from Brain Damage, which is a bakesale-esque flavor with a lot of sweet tastes. She has a very pungent skunky odor as the offspring of a variety of landraces. She has the ability to overwhelm a space with a deep, dank earthy sourness throughout the growth cycle. The scent of a skunk is exquisite. When the blooms are dried and crushed, though, some of those herbal and citrusy fruit notes reappear. Frosty Gelato Strain has been likened to a deep, rich fruit punch.
[ Read Also Black Cherry Gelato Weed Strain Review]
Flavor 
Frosty Gelato is a sweet and cake-like flavor, as revealed by its Gelato parent. The most typical scents are dank earth and skunk, however their taste is more like that of the Gelato parent. On the exhale, it has a crisp herbaceous flavor with a bright fruity zest on the aftertaste. A mouth-watering fruit blast greets you upon inhalation, which may remind you of a delicious fruit punch. Overall, it's quite pleasant and invigorating with undertones of smoky pepper and herbs in the smoke. Aftertaste is very fruit-flavored and dessert-like, with a pleasant balance of rich dankness and citrus fruits on the tongue after exhaling.
Effects of Frosty Gelato Strain 
Frosty Gelato is a sativa-dominant hybrid that provides a fantastic balance of mental and physical effects. You may anticipate a highly focusing and energizing mental impact that leads to an exalted and blissful euphoria that lasts for hours. It has both advantages and disadvantages for the physical body, although it does provide a few benefits in the form of muscular relaxation, hunger stimulation, and a soothing impact on the mind. The Indica effects of this strain helps to keep the Sativa energy bright and uplifting without turning into anxiety or paranoia. Overall, the strain is a fantastic daytime high that can keep you motivated and active, as well as being used in the afternoon for stress relief and relaxation. Frosty Gelato has a few negative side effects, including cottonmouth and dry eyes. When utilizing this strain, people with a lesser tolerance for THC might experience anxiety.
[ Read Also Modified Grape Strain]
Medical Uses Frosty Gelato Strain 
Frosty Gelato is a potent pain killer, weighing in at roughly 25-30 percent THC. Cannabidiol (CBD) is a cannabinoid derived from the cannabis plant that has shown to be highly beneficial in treating physical pain, tiredness, hunger, and headaches. However, the high is more sativa-oriented. This strain is ideally used for clinical depression and other disorders that cause difficulty in concentrating, such as ADD or ADHD. It may assist you in feeling better, increasing your creativity and energy, as well as making it simpler to eat and unwind.
Review 
In conclusion, the Frosty Gelato strain is a great choice for those looking for a balanced hybrid with amazing flavor and frosty appearance. While it is a relatively new strain, it has already gained popularity for its wonderful taste, distinct scent, and excellent medical applications. The DC area is now legal for producing cannabis, so you may get auto-feminized Frosty Gelato seeds straight from the breeder to begin your own crop with guaranteed female plants. If you're looking for a great place to order some high-quality Frosty Gelato Strain seeds, look no further.