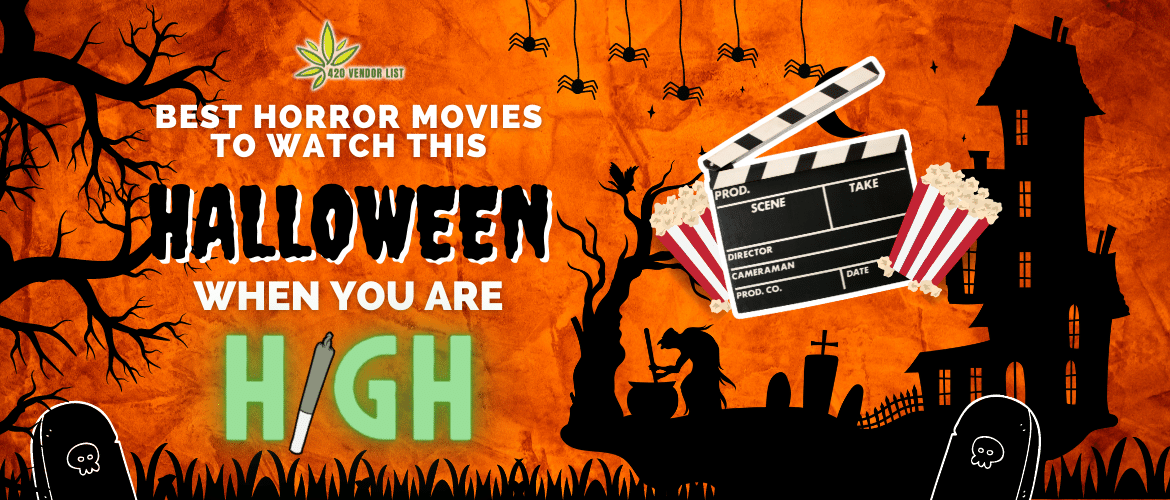 Watching scary movies on Halloween has become a tradition. It's the perfect time to break popcorn and turn the lights down to a minimum and watch the scariest movie. But what's better than watching a film? It's to watch movies when you're high.
Getting the most out of your high is the most satisfying feeling, and what better way to do it than on Halloween night with a group of friends watching a scary movie.
6. Sissy (2022)
In Sissy, we follow a girl who has found her place on the internet and the dangers of constantly seeking love and approval from people living on our phones.
Sissy follows Ceilia, a social media influencer with a fan base of more than 200,000 followers that is constantly growing. One day, she stumbles upon her beloved childhood friend Emma who invites her to her bachelorette party in an isolated cabin. However, what appears to be a harmless and enjoyable weekend becomes a nightmare when Ceilia finds herself stuck with her bully from high school, and the dark secrets of her past begin to reveal their faces.
Rotten Tomatoes Score: 97%
IMDb Rating: 6.2/10
5. Dawn of the Dead (2004)
Dawn of the Dead is a 2004 action horror film directed by Zack Snyder in his directorial debut and screenplay written by James Gunn.
Dawn begins with a look at an entire city falling into chaos due to an epidemic of zombies. Then, in a matter of minutes, our heroes are forced to flee town and enclose themselves in the mall. But, as revealed, the undead has enough of their former self-awareness to want to shop and eat.
The most impressive aspect of Dawn is how it mixed brutal zombie carnage with an energizing dose of humor and social commentary.
Rotten Tomatoes Score: 76%
IMDb Rating: 7.3/10
4. Evil Dead II (1987)
The second of three films in the Evil Dead series, Evil Dead II surpasses its predecessor in every way.
The director Sam Raimi and Ash Williams (Bruce Campbell) returned to the woods after six years of absence for Evil Dead II, which takes the horrible excess of the original. Still, it ups the intensity to a hilarious level (this was the film in which an eyeball is thrown into a person's mouth). Although Evil Dead II didn't invent the splat-stick concept, it certainly did make it better and influenced numerous other gross-outs of comedy.
Yet, despite all the grotesque and fun-filled sexy scenes displayed, Raimi still manages to keep his audience entertained and frighten them lots of times with his sexy and outrageous comedy. Please look at Henrietta looking in on the action in his basement. Or even Ash's brief appearance as an actual Deadite himself (before the rescue by a synchronized sunrise). Groovy.
Rotten Tomatoes Score: 95%
IMDb Rating: 7.7/10
Also Read: [How Good Is Wedding Cake Strain]
3. Halloween (1978)
Halloween (1978) is a great credit sequence to a movie centered around the holiday. However, the film also features a terrifying opening sequence, in which the jack-o'-lantern transforms into the first-person perspective of someone spying on Judith Myers and her boyfriend on Halloween night.
On the cold night of Halloween in 1963, six-year-old Michael Myers brutally murdered his 17-year-old sister, Judith. He was convicted and put in prison for 15 years. On the 30th of October 1978, when he was transferred for a court hearing, an unidentified 21-year-old Michael Myers steals a car and flees Smith's Grove. He returns to his peaceful hometown in Haddonfield, Illinois, where he searches for the next victim.
The film is primarily appreciated for Carpenter's direction and scores. Most critics praise the film for being the first of a long sequence of slasher films influenced by Alfred Hitchcock's Psycho (1960) and Bob Clark's Black Christmas (1974). The film is considered to be one of the most memorable and brilliant horror films ever to be created.
Rotten Tomatoes Score: 96%
IMDb Rating: 7.7/10
2. Psycho (1960)
Psycho is one of the most clever and sneaky movie plots that has ever been snuck onto a movie screen.
The film opens with Marion Crane, who is a Phoenix real estate secretary. However, when the film opens, she is not at work but with her boyfriend, Sam Loomis. She's having afternoon fun (skyrockets and flights) in a hotel. Sam loves her, and she loves him. However, they cannot marry, as Sam has a lot of debts, including alimony from his ex-wife.
Marion returns to work and steals $40,000 in cash given to her as a deposit. She then drives to Sam's house in Fairvale, California. Marion Crane is on the run after she stole money to flee with her boyfriend, who was exhausted by a heavy rainstorm.
She travels on back roads to avoid police and stops at the Bates Motel. Norman Bates is a polite but well-spoken proprietor. He is a young man with a passion for taxidermy and a complicated relationship with his mother.
Psycho is still one of the most memorable horror films. Hitchcock combines comedy, sex, and death to create a gripping story that is riveting from beginning to end.
Rotten Tomatoes Score: 96%
IMDb Rating: 8.5/10
1. The Shining (1980)
The Shining may be Stephen King's most beloved horror novel. Stanley Kubrick's adaptation of Stephen King's novel is almost sure to be the most well-known movie. Kubrick's film adaptation was a commercially focused project. However, the same stylistic elements which defined his previous films were fully displayed, and the film is a haunting, unsettling chronicle about a family man's mental breakdown.
Jack Nicholson is famous as Jack Torrance (a struggling writer who accepts a job at the Overlook Hotel in Colorado Mountains). Jack is not scared away by the knowledge that his previous caretaker was insane and had murdered his family. However, things quickly turn sour when Jack and his psychically gifted son start to communicate with the Overlook's spirits. Horrors such as the bloody elevators and the gruesome Room 237 await viewers.
The Shining is a horrifying film that has influenced pop culture. The image of Nicholson peeking through a doorway shouting, "Here's Johnny!" is well-known to all. The Shining was also used as inspiration for one of The Simpsons' best "Treehouse of Horror" segments. This film is a must-see for horror fans.
Rotten Tomatoes Score: 82%
IMDb Rating: 8.4/10
Let us know in the comments what was your experience watching a horror movie when you were HIGH.