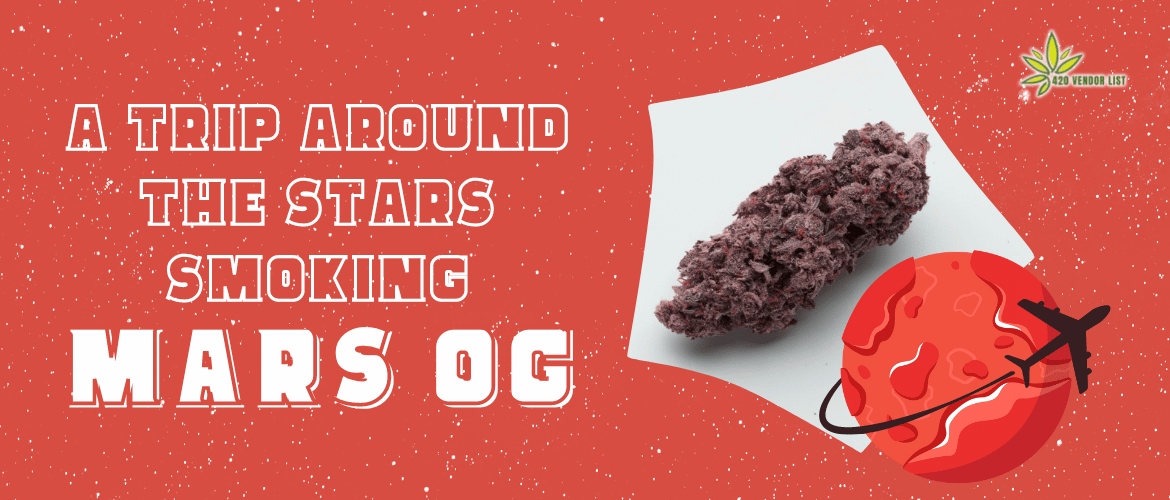 The California bay area is the birthplace of the indica dominant hybrid strain known as Mars OG, a spacey, stoned feeling with a strong body high. The smell of Mars OG is powerful and earthy with a citrusy undertone.
The Mars OG strain is recommended for those seeking a relaxing nighttime smoke. The soothing high from this strain is relaxing to both the body and the mind. Many users report that it helps them unwind and eases them into a peaceful night's sleep.
Mars OG derives its name from the fact that it is a hybrid between the indicas Mars and OG. This strain has a moderately high THC content, averaging around 16%. At the same time, the highest test for CBD content is 1%. Its high induces a mood of laziness. Thus it's best to refrain from doing anything pressing right after use.
Mars OG Aroma.
The Mars OG strain is known for having a strong odor. To complement the savory undertones of the earth, there is also a tangy, lemony aroma. Tiny traces of pine can be detected, along with the fainter aroma of herbs.
Mars OG Appearance.
The buds of Mars OG are extremely dense and green. Like the red planet Mars, from which it takes its name, it is covered in a thick mane of bright red and orange hairs. Trichophores cover the nugs, giving them a powdery texture and making them difficult to handle.
Related: [White Cake Strain Review]
Mars OG Flavor
The taste of Mars OG cannabis is also rather good. Users often report tasting a tangy, lemony flavor upon inhalation. Sweet, warm earth, herb, woodsy undertones, and pine are some of the traditional OG Kush flavors that users pick up on.
How to grow Mars OG Strain.
Mars OG grows differently. Most home growers start indoors before moving outside for best results. Mars OG is considered a planetary by a variety of growers because of this unique design. It is common for planetary strains to rely on the outdoors to complete their life cycles. Mars OG, for example, prefers a warm, Mediterranean-like climate.
Newer growers may find this challenging, but it yields great results. Consider its high output; some cultivators report harvesting 16 ounces or more from a single plant. Its quick turnaround gives growers enough time to harvest. This may appeal to people in cold climates.
There is a lot of calyx (flower) on the Mars OG plant compared to leaves. This results in a far more controllable level of sugar leaf presence and cutting. Naturally tall and slim, its height can be controlled through low-stress training or topping.
Mars OG's Medical Benefits
Mars OG is helpful for many different conditions. Panic, anxiety, and stress sufferers can relax and unwind with their huge body buzz. Insomnia and other sleep disorders may also improve for some people who use this. Some people may find relief from headaches, neck and back pain, or even menstrual cramps and nausea.
Related: [Best Places to Get Your Medical Marijuana Card]
Users of Mars OG have reported feeling relief from numerous epilepsy-related symptoms. Seizure symptoms and aches also decreased. These strains may be helpful for people who suffer from mood disorders and depression. This strain helps with PTSD, inflammation, and back discomfort.
Final Thoughts
If you're looking for a strain to help you unwind, Mars OG is a great option. Insomnia problems are greatly alleviated by taking this. Many users describe euphoria, serenity, and a good night's sleep. Many users find relief from various pain conditions with this uplifting strain. Tokers praise Mars OG for both its flavor and its suitability as a nighttime smoke. Overall, it's a relaxing smoke that lifts spirits and calms nerves.