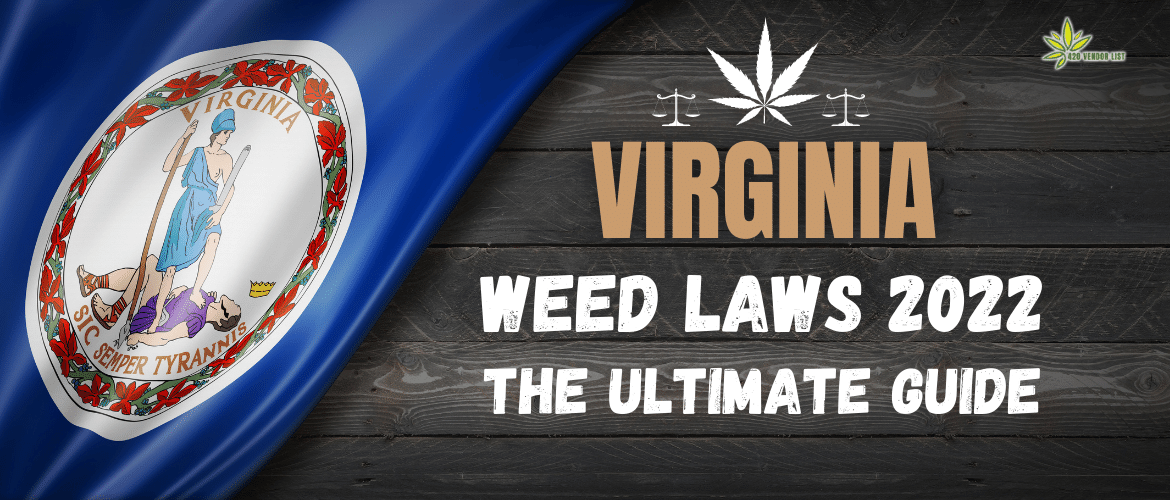 Is Weed Legal In Virginia?
Yes! Weed is finally legal in Virginia – as of July 1, 2021! However, it is still not feasible to purchase marijuana in Virginia, as dispensaries are not expected to open until 2024.
Though purchasing cannabis is currently difficult, those with severe medical conditions may be eligible for a CBD medical license. Patients can lawfully receive state-produced CBD oil with trace quantities of CBD and/or THC-A by undergoing an extensive process. There is currently no other legal alternative to buying marijuana in Virginia.
Weed Legislation History In Virginia 
In 1979, Virginia passed one of the first medical marijuana laws in the country. The state's criminal code stated that a person might not be prosecuted for marijuana possession in Virginia if they received a doctor's prescription to treat glaucoma or chemotherapy side effects. However, doctors can only prescribe FDA-regulated drugs.
In 2017, the General Assembly legalized limited cannabis production, dispensing, and CBD or THCA oil for intractable epilepsy sufferers. In 2018, Gov. Ralph Northam approved a bill allowing doctors to recommend medicinal marijuana to any eligible patient.
The state allowed nurse practitioners and physician assistants to write medicinal cannabis extract certifications in 2019. In addition to that, it specified that each dose could have up to ten milligrams of THC in it.
In April 2021, Virginia became the first southern state and the fourth to legalize cannabis for adult use by legislative action. (The laws had previously been sent to Gov. Ralph Northam, who requested amendments; once the changes were added, the bills became law without requiring the governor's signature.) Instead of 2024, the bill authorized possession of an ounce (28 grams) or less of cannabis and production of up to four plants per household on July 1, 2021.
Retail sales and other aspects of the measure will take effect on July 1, 2024, giving the Cannabis Control Authority and other organizations time to establish the required framework for regulating and overseeing cultivation, production, distribution, and retail sales. Like other recently legalized states, Virginia legalized cannabis with provisions to address race, social fairness, and cannabis law enforcement. Measures include giving licenses to communities and people who have been hurt the most by the war on drugs and putting a third of the tax money from cannabis sales into other projects. Due to the fact that the measures were passed during a special session, they must be re-approved in 2022.
The Virginia Board of Pharmacy oversees medicinal cannabis products in the state. The board functions under the Department of Health Professions of the state. The Virginia Cannabis Control Authority regulates adult-use cannabis.
Possession of Marijuana in Virginia
As of July 1, 2021, adults 21 and older are allowed to possess up to an ounce of cannabis legally.
Using Marijuana in Virginia.
On private land, the consumption of cannabis oil for medical purposes is generally permitted. In order to follow Virginia's drug laws, certifications should be kept with medical cannabis products. All cannabis products, including those used for medical purposes, must be stored in locked containers, out of the reach of the vehicle's driver and passengers. It is against the law to drive when impaired. The use of cannabis flower for inhalation is likewise prohibited.
Land owned by the federal government is essentially not state land. So, the fact that marijuana possession is no longer illegal wouldn't help if you were caught with it on federal land. Due to the federal prohibition on marijuana, you may be susceptible to higher fines and maybe imprisonment. Please refrain from using and transporting marijuana while on federal property.
How to Apply for a Virginia Medical Marijuana Card
To obtain this certification, there are a few steps that must be taken: Medical cannabis oil requires a doctor's written recommendation, which may be obtained by making an appointment with a qualified medical professional. If you're looking for a licensed pharmacist, you can discover a list of them through the Board of Pharmacy. The next step is to submit an application for registration with the Board of Pharmacy, together with the required $50 fee and documentation of residency and identification. Following registration, you will be able to purchase cannabis oil from a licensed dispensary in your state.
How to legally transport marijuana in Virginia
Marijuana Transport in Virginia
After July 2021, adults over 21 can transport cannabis within the state. Having said that, cannabis should always be kept out of reach of the driver.
Marijuana Impairment While Driving
Virginia does not have a "legal limit" for THC like some other states do. Virginia has a policy of "zero tolerance." For this reason, if a police officer pulls you over and suspects that you may be impaired, he or she may request a blood test for THC. Trace levels of THC in your bloodstream will result in charges and license suspension. So don't drive high for your and others' safety.
Transporting Marijuana Across State Lines.
Driving across state lines puts you under federal jurisdiction, even in legalized states. Marijuana is outlawed federally, and police are harsh on marijuana offenses. Trafficking marijuana over state lines is illegal. The fines and sanctions for this are considerably harsher than before. Before crossing state lines, double-check your belongings.
Growing Marijuana in Virginia
Consumers over the age of 21 will be permitted to cultivate up to 4 cannabis plants in their own homes starting on July 1, 2021.
Resources