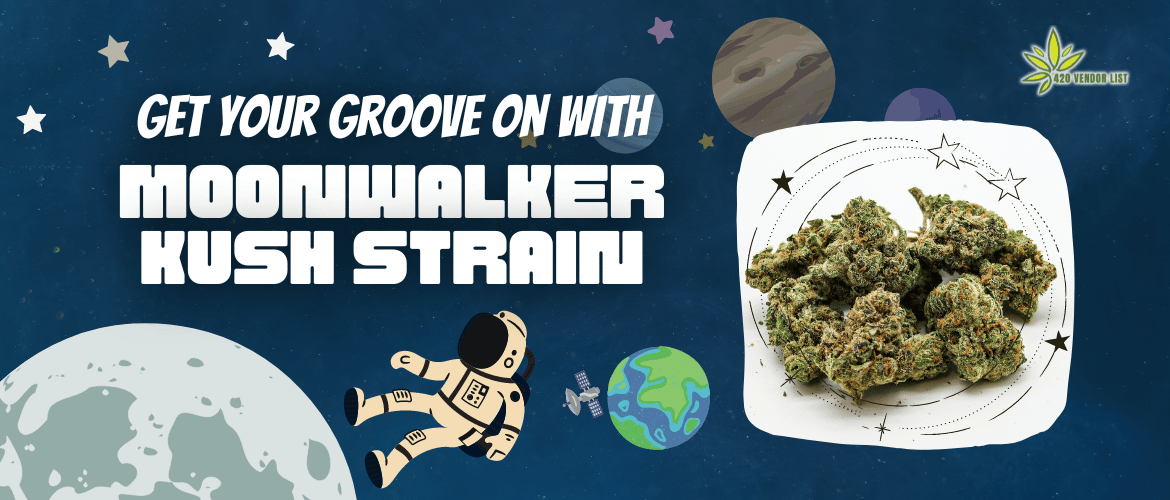 The Moonwalker, also known as Moonwalker Kush Strain or Moonwalker OG, is a well-balanced Indica-dominant hybrid that was created by crossing Triple OG with the breeder's own signature hybrid, Tahoe Alien. As a relatively new hybrid strain, Moonwalker Kush may be hard to come by for those who aren't based in the Pacific Northwest. Thanks to its genetic heritage from Triple OG, Moonwalker Kush is a hybrid with a mild indica dominant.
There's good reason why this strain is so well-liked by tokers. Moonwalker Kush relieves muscle and nerve pain. It may treat migraines, seizures, and spasms. Moonwalker will send you to the moon and back with its beneficial and powerful effects and its well-rounded mental and physical high.
Moonwalker Kush Strain Appearance And Aroma
Moonwalker buds are ice-cold and thick, with orange pistils scattered throughout, Trichomes of a bright white colour blanket the dense nugs. The aroma of the bud is simultaneously tropical and earthy. Because of the abundance of resinous trichomes that cover this flower, it is extremely sticky and difficult to break apart without the help of a grinder. Moonwalker Kush is characterised mostly by a pungent odour that is reminiscent of moist earth and leaves. Caramel's gently sweet aroma is mingled with hints of hash and black pepper.
When the buds are broken apart, they release a musky smell that some seasoned smokers may compare to Cheese. Moonwalker Kush produces a harsh, bitter smoke when burned, irritating the respiratory system and making you cough. There may be a lingering spicy flavour on the exhale.
Moonwalker Kush Strain Effects And Uses
Moonwalker marijuana is quite effective in helping people with insomnia get to sleep. While it's true that Moonwalker is best enjoyed at night, it may be utilised whenever the consumer is comfortable. Consumers of the Moonwalker strain report feeling happy, euphoric, relaxed, hungry, and giggly. This variety is useful for treating various mental and physical disorders, including anxiety, sleeplessness, nausea, chronic pain, and depression. Moonwalker is a hard-hitting, adaptable strain that contains 28% THC and may be utilised for a multitude of purposes due to its high level of this psychoactive compound. Because of its high THC content, this strain can lead to couchlock when used in high quantities. It is wise, to begin with a smaller dose and gradually increase it if you are a first-time user.
How To Grow Moonwalker Kush Strain
It has yet to be possible to purchase pre-packaged seeds of the Moonwalker Kush strain, and clones may be similarly scarce. So yet, there isn't much data available on how to grow this specific strain. Nonetheless, it may be grown successfully either indoors in a greenhouse or outdoors in a semi-humid area with temperatures around 70 degrees Fahrenheit, as is the case with most cannabis strains.
Final Thoughts
This strain's predominant sedative and moderately cerebral effects are a good fit with its herbaceous terpene profile. If you're an Indica fan and love to relax, try some Moonwalker Kush in the evening. Moonwalker Kush is a slow burner that leaves you feeling high for a while. To get the most out of this strain, smoke it at night, especially if you're just starting out. It's best, to begin with, a lesser dose and gradually increase it, just as you would with any other strain.
If the conditions are ideal, smoking Moonwalker Kush could motivate people to learn how to moonwalk.