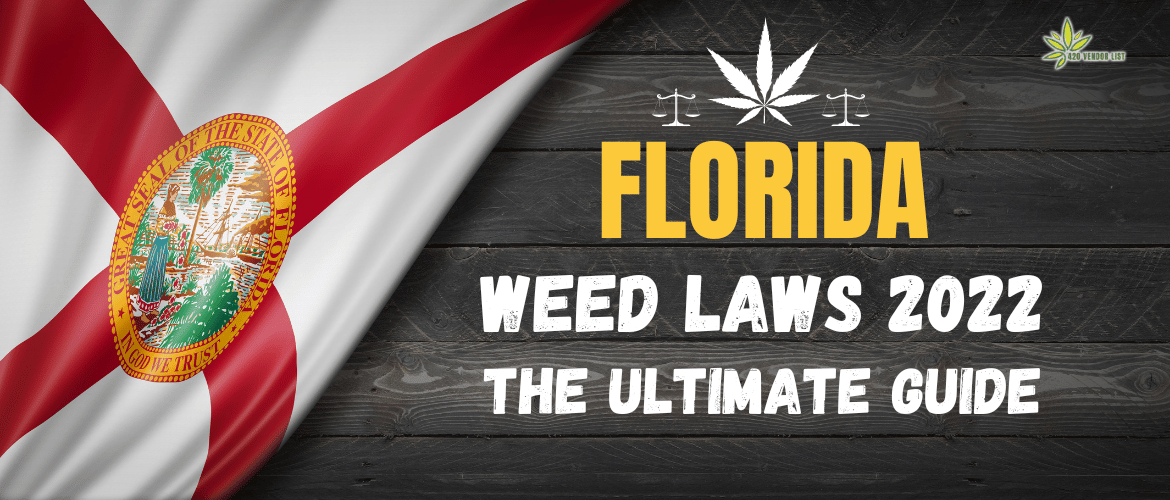 Is weed legal in Florida?
Medical marijuana prescribed by a licensed physician is legal in certain cases in Florida. The Florida Medical Marijuana Legalization Initiative, aka Amendment 2, legalized medical marijuana on November 8, 2016, in the state of Florida.
Adult-use or recreational marijuana sales, possession, and consumption, on the other hand, remain illegal in Florida. Any amount under 20 grams is a Class A Misdemeanor with a $1,000 fine and a one-year statutory minimum sentence. More is a felony with fines up to $200,000 and 5–30 years in jail.
Weed Legislation history in Florida
The Florida Legislature passed the Compassionate Medical Cannabis Act in 2014, allowing critically ill cancer and epilepsy patients to consume low-THC cannabis. The Office of Compassionate Use (OCU) runs Florida's medical cannabis program for the Department of Health (DOH).
In 2015, Governor Rick Scott signed the Florida Right to Try Act, allowing doctors to treat severely ill patients with FDA-unapproved treatments or medicines. With the approval of HB 307 in March 2016, low-THC and medicinal cannabis were added to this list.
On Nov. 8, 2016, over 70% of Florida voters approved Amendment 2, the Florida Medical Marijuana Legalization Initiative. Amendment 2 increased the list of qualifying ailments and legalized medical cannabis. The amendment also renamed the OCU the Office of Medical Marijuana Use (OMMU) and established Medical Marijuana Treatment Centers (MMTC).
The state Department of Health's Office of Medical Marijuana Use regulates Florida's medical cannabis program.
A Guide to Buying Marijuana in Florida
Medical dispensaries are opening around the state as the medical marijuana program expands. Marijuana is only allowed to be purchased through medical dispensaries, and recreational use is prohibited. The state of Florida has legalized the use of medical marijuana, and patients can now have it delivered from a licensed medical marijuana dispensary.
Purchasing Marijuana at a Retail Store
A medical marijuana card is required to buy marijuana in Florida. Buying or possessing marijuana for recreational purposes is still extremely illegal and can lead to serious penalties.
However, marijuana is easy to get for medical card holders. To visit a dispensary, one must have a valid medical marijuana card and photo identification; nonetheless, you must carry our card whenever you are in possession of cannabis.
Marijuana Delivery Service in Florida
In the state of Florida, medical cannabis delivery services are legal. However, delivery cannot be performed by a third party. Medical marijuana can only be delivered by licensed dispensaries. A delivery employee is required to have special registration and to always use a GPS tracker. When delivering, medicinal marijuana products must be kept in the trunk in a lockable case that only the delivery man has access to.
Dispensaries' hours in Florida
Regarding their operating hours, medical marijuana dispensaries in Florida are not subject to any laws. Thus, dispensaries have flexible store hours to serve customers. Always check your favorite dispensary's website for hours!
Purchasing Restrictions in Florida
Doctors help medical marijuana patients find the right dosage. Therefore, there is no standard limit on purchases; rather, each limit is defined by the doctor and the particular patient. Don't be shy about discussing your concerns with your doctor about your recommended daily dose of marijuana. Patients are permitted to buy marijuana for up to 70 days once an appropriate dosage has been confirmed. You don't have to buy the entire 70-day supply at once, but you also can't buy more than that in the allotted time. However, patients are restricted to no more than 4 ounces of marijuana at any given time and doctors cannot suggest more than 2.5 ounces in a 35-day period.
Available Marijuana Products in Florida
In the past, smoking herbs was not permitted in the state of Florida; but, in 2019, the governor of Florida signed a bill that overturned this policy. This means that anyone can buy pretty much any kind of pot product they want. Florida law also says that dispensaries have to keep low-THC and high-CBD products on hand for people who don't want to use the strong marijuana products that are common today.
Where to legally consume cannabis in Florida?
Marijuana can't be consumed in public places, on school grounds, at work (unless the boss says it's okay since smoking isn't allowed indoors), or on a public bus, train, plane, or boat. In other words, consumption must take place in the privacy of one's own residence. It's also against the law to get behind the wheel when high on marijuana.
It is possible to use edible forms of cannabis as well as tablets, sprays, oils, vaporizers, and even smoke it. Cannabis flower can only be smoked or vaped in tamper-proof containers. Smoking medical cannabis is not permitted for patients younger than 18 years old unless the patient has been diagnosed with a fatal disease and a second physician who is board-certified agrees with the diagnosis.
Smoking Marijuana on Florida Federal Lands
You probably already know that under federal law, you cannot legally purchase or possess marijuana in the United States. This effectively means that all federally held properties must follow federal regulations. Thus, federal lands are off-limits for marijuana use. If someone is found guilty of this offense, they will be tried by a federal court, which will take a significant amount of time and result in significant financial penalties.
Marijuana Possession in Florida
Possession of any amount of marijuana is a Class A Misdemeanor, which carries penalties and jail time for recreational users. In the state of Florida, those who use marijuana for medical purposes are allowed to carry up to 4 ounces of the marijuana or its equivalent in the form of oil, edibles, creams, etc. Medical users possessing more than this will be severely punished. In light of the high threshold set by the law, you should not buy more than four ounces of cannabis at a time.
How to Get a Florida Medical Marijuana Card
In Florida, obtaining a medical marijuana card is simple, requiring only the following procedures to be taken:
1. Have an in-person consultation with a licensed medical physician to validate their qualification for the program.
2. Patients who have been approved by their doctors to use medical marijuana must register with the state's medical marijuana registry.
3. Following this, an individual is required to submit an application to the Office of Medical Marijuana Use along with the required application cost of $75.
4. If the patient's application is successful, they will first receive a temporary card in the form of an email, and then they will receive a permanent card in the mail.
Florida Medical Cards for Out-of-State Use
Florida does not accept medical cards issued by other states. Therefore, only patients with legitimate medical marijuana cards issued by the state of Florida may purchase marijuana within the state.
How to legally transport marijuana in Florida
Marijuana Transport in Florida
Weed is legal in Florida, but transporting it is strict. If there is marijuana in a car, it must be sealed and in the back seat, or it must be drunk out of reach of the driver. Similarly, you can't have any form of weed in the glove box. An officer has every authority to question a driver who emits a strong odor of marijuana. So make sure you never leave cannabis in an open container in your car and reduce the amount of times you travel with it.
Marijuana Impairment While Driving
In the state of Florida, there is no legal limit above which it is unsafe to drive. In the event of any suspicion of impairment, a drug-inspection officer will be dispatched to the scene. In the same way that driving under the influence of alcohol can lead to serious legal consequences, driving under the influence of marijuana can have disastrous consequences. Driving under the influence results in license suspension, large penalties, and court-ordered punishment. If you need a ride after smoking, we strongly encourage you to take advantage of public transportation or ridesharing apps like Uber or Lyft.
Transporting Marijuana Across State Lines.
Marijuana cannot be driven across state boundaries, even after legalization. Marijuana is federally banned in the US. And state lines are under the federal government's jurisdiction. For this reason, transporting marijuana across state lines is illegal, and police are frequently instructed to be on the lookout for smuggling attempts.
Marijuana Cultivation in the State of Florida
It is illegal for anyone in Florida other than those who have a cultivation license from the state to grow marijuana. As a result, a patient or caregiver cannot legally cultivate their own marijuana, regardless of the circumstances. To legally use marijuana within the state of Florida, you must first obtain a medical marijuana card from the state and then make a purchase at a dispensary that has been licensed by the state.
Resources