---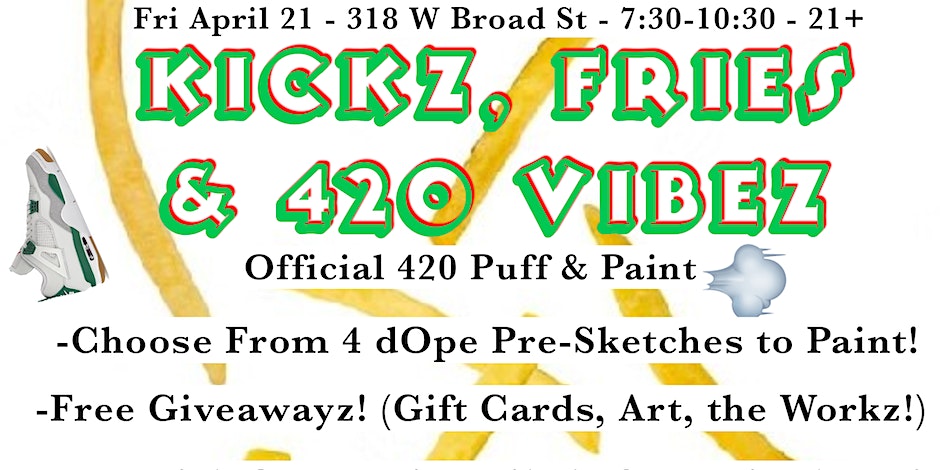 Start: 2023/04/21 19:30
End: 2023/04/21 22:30
Speakers: 420VL Team
Location: West Broad Street, Richmond, Virginia, United States, 23220
---
420 event for Sneakerheads, BYOTREE , well-curated, safe space w/ awesome vibez! Enjoy Fries In Disguise, munchies, winetailz as you paint
"Kickz, Fries & 420 VibezZz"
Fri April 21 – 318 W Broad St (@MyCntr) – 7:30p – 10:30p – 21+
The Official RVA 420 Puff & Paint for 2023!!! 🥳🥳🥳 (3rd Annualll🙌🏽🙏🏽🙌🏽)
– Enjoy 420 with other Enthusiasts & Sneakerheads in a SAFE space! (No THC vendorzZ, so BYOTree!) Rolling trays & cones provided!
– Choose From 4 dOpe Pre-Sketches🔥🔥🔥🔥
– Skilled Assistants ready to help you customize your MASTERPIECE🙌🏽🙌🏽🙌🏽
– 1 Entree + Drink from @FriesInDisguise INCLUDED!!!🙌🏽
– Gourmet munchies including chips, popcorn & sweetzZ!
– Trippy Playlist⚡️⚡️⚡️
– Experience Icing On The Kickz Sneaker Art & Splash Galleryy, and get ready to SHOP for yourself or fav Sneakerhead!!🔥🔥🔥
– Our Kickz Cam will be on and the prize for "Best Kickz" will receive a custom painting!!!
– Try our Kick Crazy Winetailz collab, created by @DShayLikeDaVinci crafted with @ShoeCrazyWine before our 23′ release!
– FREE 🔥 RAFFLES ALL NIGHT INCLUDING GIFT CARDS, SNEAKER ART AND JEWELRY!!!
– Cool backdrop for that final pic!
***Want a different pre-sketch?? Email lavaldshay@gmail.com Only $8 Fee!
***Need to pay with app?? Email lavaldshay@gmail.com
***Want to reserve a table for your group?? Email lavaldshay@gmail.com